Wacky Weekend: Crazy Cookie Recipe–YUMMY!
Posted Dec 21 2014 in Almond Bark, Christmas Cookies, Peanut Butter, Ritz Crackers, Wacky Weekend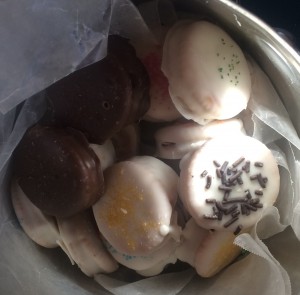 Okay, so none of us have a lot of time during the holiday season, and going to the store to buy tons of ingredients for cookies is a pain. Well, I've got the answer. 3 ingredients (4 if you count sprinkles) will make you cookies that will have your mouth watering and everyone completly fluxomed on how you made them.
Ritz Crackers
Peanut Butter
Almond Bark (Chocolate or Vanilla)
Decorative Sprinkles (optional)
Just make Ritz Cracker/Peanut butter sandwiches with think layer of peanut butter, then dip in melted almond bark. Decorate with sprinkles and let them dry on wax paper. A bit of salt, a bit of peanut butter, a bit of sweet. A whole lot of YUMMY!