#1 Memory Challenge – Sample Videos and Posts
The #1 Memory Challenge is easy! It's 3 steps!
1) Record a memory through a video, photo and/or writing a story and post it on social media.
2) Challenge 2-5 others to share a memory and tag them.
3) Give them 24 hours to accomplish the challenge or to donate to the Alzheimer's Association (or another organization).
Here are some sample posts, photos and videos for you to use as examples. There's no right or wrong way to join into the #1MemoryChallenge! 
Sample Posts
Text Memory Post on Facebook
I added a link which pulled in a photo, but you wouldn't have to do that!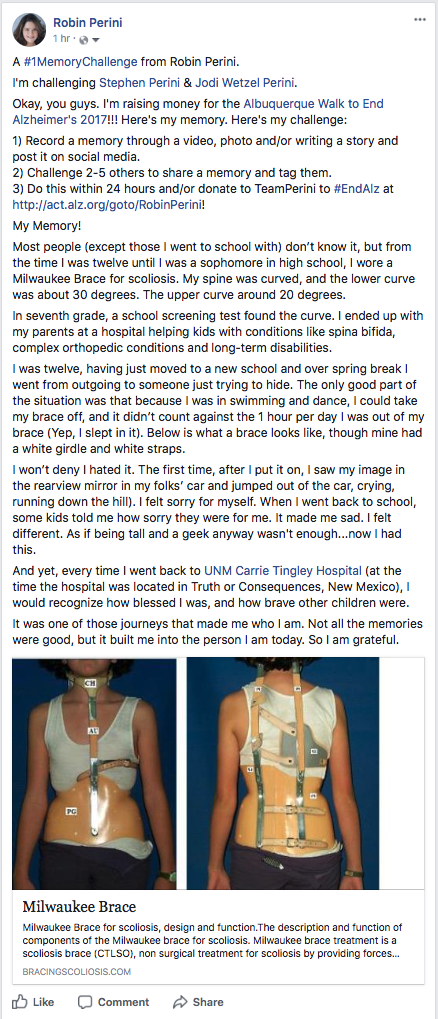 Photo Memory Post on Facebook
Video Memory Post on Facebook
Here's a picture of the post. The full video is below :-).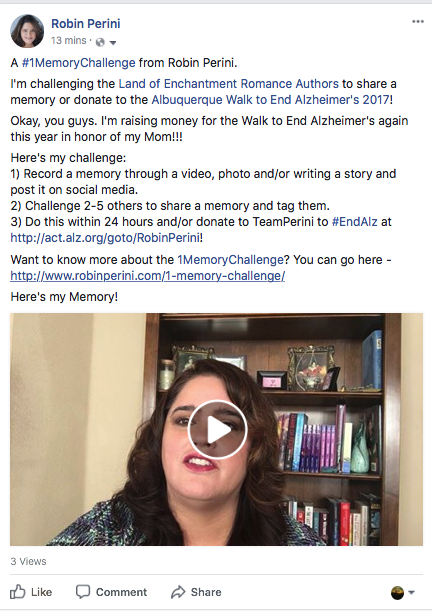 A Longer Memory
More Memories

Links
FACEBOOK – https://www.facebook.com/1MemoryChallenge/
TWITTER – https://twitter.com/1MemoryChalleng
PINTEREST – https://www.pinterest.com/robinperini/1memorychallenge/
INSTAGRAM – https://www.instagram.com/robinperini/
Robin's Mom Tribute/Donation Page – http://act.alz.org/goto/1MemoryChallenge
#1MemoryChallenge Website – https://www.robinperini.com/1-memory-challenge/
Alzheimer's Association – http://www.alz.org
More Info
#1 Memory Challenge General Information – https://www.robinperini.com/1-memory-challenge/
#1 Memory Challenge – Sample Posts and Videos – https://www.robinperini.com/1-memory-challen…videos-and-posts/
#1 Memory Challenge – How to Upload a Video – https://www.robinperini.com/1-memory-challen…-from-iphoneipad/