#1 Memory Challenge – You Are Not Alone!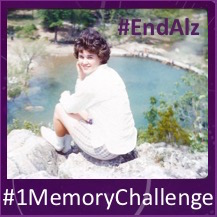 My name is Robin Perini and my mother is in the final stage of Alzheimer's Disease. Through this difficult journey, I have learned how very valuable our memories are. Please consider joining me in the #1MemoryChallenge to:
1) Encourage sharing of memories with others before they are lost
2) Increase awareness of Alzheimer's Disease, those living with this illness and their caregivers.
3) Encourage donations to the Alzheimer's Association and other organizations that support the vision of a world without Alzheimer's. I pray for that day!
What is this challenge?
One of Alzheimer's most devastating impacts is the loss of memory. I wish that I could ask my mother questions and that she could share her memories with me. I challenge each of you to share a memory that you might want share with yourself should you lose the ability to remember or that you wish to share with your friends and family. OR, perhaps you'd like to share a question or something you wish you could do with someone whose memory has failed.
How does it work?
1) Record a memory through a video, photo and/or writing a story and post it on social media.
2) Challenge 2-5 others to share a memory and tag them.
3) Give them 24 hours to accomplish the challenge or to donate to the Alzheimer's Association (or another organization).
It's as simple as that! Want to see some examples of some #1MemoryChallenges! Click right here! Want to know how to post a video? Click right here!
Videos about #1MemoryChallenge
Short
Long
Remember, you are not alone!
Links
FACEBOOK – https://www.facebook.com/1MemoryChallenge/
TWITTER – https://twitter.com/1MemoryChalleng
PINTEREST – https://www.pinterest.com/robinperini/1memorychallenge/
INSTAGRAM – https://www.instagram.com/robinperini/
Robin's Mom Tribute/Donation Page – http://act.alz.org/goto/1MemoryChallenge
#1MemoryChallenge Website – https://www.robinperini.com/1-memory-challenge/
Alzheimer's Association – http://www.alz.org
More Info
#1 Memory Challenge General Information – https://www.robinperini.com/1-memory-challenge/
#1 Memory Challenge – Sample Posts and Videos – https://www.robinperini.com/1-memory-challen…videos-and-posts/
#1 Memory Challenge – How to Upload a Video – https://www.robinperini.com/1-memory-challen…-from-iphoneipad/