Writers are Amazing – Autographed Books to Help Fight Alzheimer's
What's Going On?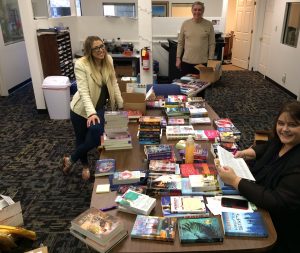 I finally get to share a really neat project that I've been working on! The Alzheimer's Association: New Mexico Chapter is hosting a gala to raise money for the Alzheimer's Association. I attended last year and it was SO MUCH FUN. I asked if they might be interested in some AUTOGRAPHED books to auction off…cause I have a few really amazing author friends. They were so excited.
So, I sent out a few emails to authors who are some of my biggest fans. Oh my goodness. I expected to get 20-30, and I received over 200 autographed books!!! This is me and my dad (grinning at the back) starting to go through just SOME of them!!
The authors were so generous that we're going to do numerous silent auctions over the next few months. I received 25 books from #1 NYT Bestselling Authors, 92 books from NYT Bestselling Authors, 37 from USA Today Bestselling Authors, and more from PW Bestselling Authors, Wall Street Journal Bestsellers, Amazon bestsellers and so many more!
So…today…there will be a 1 day only silent auction (ending April 14 at 9:30 pm mountain time).
---
NM Chapter 2018 Dancing Gala & Silent Auction (Our First Event)
I have teamed up with the Alzheimer's Association through the NM Chapter to create a book lovers dream! We are auctioning off 14 baskets filled with autographed books from national best selling authors and you're not going to believe who! All proceeds go toward this amazing organization (split between the local and national organization), supporting dementia caregivers, awareness, and Alzheimer's research. They touch my heart and so many other families very deeply.
Our baskets are full of autographed books from authors Jamie Pope and Lena Diaz plus: 
#1 NYT Bestselling Authors George R. R. Martin, Debbie Macomber, Jennifer L. Armentrout, Lee Child, Linda Lael Miller, Lisa Gardner, Lisa Jackson, Nora Roberts, Robyn Carr, Susan Mallery, Victoria Alexander
NYT Bestselling Authors Anne Hillerman, Brenda Novak, Catherine Coulter, Courtney Milan, David Morrell, Eloisa James, Gena Showalter, Jennifer Crusie, Sharon Sala, Tony Hillerman, TR Ragan, Nancy Bush, Nicole Helm
USA Today Bestselling Authors Debra Webb, Jane Porter, Nancy Naigle, Rita Herron
PW Bestselling Author Robin Perini
---
Check out these Baskets
All books in these baskets are autographed by the authors.
Item # 152: George R. R. Martin's Game of Thrones 

Includes: Signed Games of Thrones Book, House of Stark Beer Stein

Item # 115: Lee Child's Killing Floor (The 1st Jack Reacher Book)

Includes bookplate signed Lee Child's Killing Floor (large print), T.R. Ragan's Her Last Da, Debra Webb's The Longest Silence

Item # 109: Lisa Gardner's Look for Me

Includes: Signed copies of Lisa Gardner's Look for Me, Rita Heron's Pretty Little Killers, T.R. Ragan's Abducted, and Lena Diaz's Take the Key and Lock Her Up plus a scented candle.

Item# 126: Debbie Macomber's Any Dream Will Do

Includes: Signed copies of Debbie Macomber's Any Dream Will Do, Nancy Naigle's  Life After Perfect, Brenda Novak's When Lightening Strikes and Jane Porter's Odd Mom Out 

Item # 132: Susan Mallery Gift Basket

Includes signed Susan Mallery's Second Chance Girl as well as branded items and mini pie kit.

Item # 129: NM Hillerman Books and Food

Includes NM Food Cook books, various chiles and spices, signed Anne Hillerman novel (and Tony Hillerman novel signed by his daughter, Anne)

Item #155: Lisa Jackson's Suspense Basket

Includes signed Lisa Jackson's Ready to Die, Chosen to Die, David Morrell's Murder as a Fine Art, Lisa Jackson and Nancy Bush's Something Wicked

Item # 137: Nora Roberts Autographed Novel, Year One

Includes: signed Nora Roberts' Year One, Sharon Sala's Betrayed, Debra Webb's Keeping Secrets, mug and more.

Item # 142: Fifty Shades of Purple (NYT Edition)

Contemporary Romance Lovers basket includes signed Courtney Milan's Hold Me, Trade Me and The Duchess War, Jennifer Armentrout's Moonlight Sins, Linda Lael Miller's The Marriage Charm, Robyn Carr's The Summer that Made Us as well as champagne, chocolates, sleep masks, candle and massage oil.

Item # 119: Robin Perini's Forgotten Secrets

Includes: Alzheimer's Association goodies and a book in which a person living with Alzheimer's is the witness to a kidnapping. (10% of all royalties received donated to the Alzheimer's Association.

Item # 168: Gena Showalter
Young Adult Basket

Includes signed copies of Gena Showalter's Lifeblood, Everlife, Firstife and more.

Item # 148: Christmas 
in April

Includes signed Victoria Alexander's What Happens At Christmas, Jamie Pope's Kissed by Christmas, Nancy Naigle's Hope at Christmas, Nicole Helm's True Blue Cowboy Christmas, hot cocoa, tea, mug and Alzheimer's ornaments.

Item 161: Jennifer Crusie Spanish Language Basket

Includes signed Jennifer Crusie's Miénteme, Tentación, Extraños Amantes, Loco Por Ti, Una Apuesta Peligrosa, and La Falsificadora and bottle of wine.

Item 190: Eloisa James' Gift Basket

Includes Eloisa James books, decorative cupcake, shaped jar, cupcake shaped ceramic bank and much more.

  
---
How to Bid
Follow the directions below to see the baskets and bid on this silent book auction, but hurry this ends tomorrow night at 11:30pm eastern time.
How to register/view on your cell phone by text:
1. Text the keyword DanceGala18 to the number 24700.
2. Click the blue link and wait for a welcome message 
3. Enter your credit card information to authorize your card.
4. Start browsing the silent auction items.
---
Or Donate
If you don't want to bid, you can always donate by clicking here:
---
All Authors Who Donated (More to be Added) – If you want to donate, contact me.
These authors generous book donations will appear in numerous silent auctions over the next months. I'll let you know when via social media and this website. Make sure you follow, so you can bid on a signed book by your favorite author. It's for a great cause!
Lisa Gardner
TR Ragan
Rita Herron
Julia Quinn
Lena Diaz
Linda Lael Miller
Gena Showalter
Lisa Jackson
Jennifer L. Armentrout
Robyn Carr
Susan Mallery
Courtney Milan
Victoria Alexander
Alyssa Day
Ann Aguirre
Anne Hillerman
Tony Hillerman
B.J. Daniels
Bella Andre
Brenda Jackson

Brenda Novak
Carly Phillips
Catherine Coulter
Nancy Naigle
Cathy Maxwell
Nicole Helm
Jamie Pope
Robin Perini
Cynthia Eden
Darynda Jones
Lee Child
Diana Gabaldon
Dianna Love
Debra Webb
Debbie Macomber
Marie Force
Carolyn Brown
Susan Stoker
Jennifer Crusie
Jane Porter

George R. R. Martin
Nora Roberts
Sharon Sala
Karin Slaughter
Jill Marie Landis
Kat Martin
Kristina McMorris
Linda Howard
Lori Foster
Lori Wilde
Maggie Shayne
Maisey Yates
Mary Jo Putney
Elizabeth Hoyt
Nalini Singh
Nancy Bush
Orson Scott Card
Pintip Dunn
Robyn Peterman
Sabrina Jeffries

Suzanne Brockmann
Ed Gaffney
Tammara Webber
Tawny Weber
Tess Gerritsen
Eloisa James
Ann Aguirre, Rachel Caine
Lisa Jackson
Nancy Bush
Angi Morgan
Barb Han
Darcy Burke
Erin Knightley
Katie Lane
Lorraine Heath
Merline Lovelace
David Morrell
Sherry Thomas
Terri Osburn
Tracy Brogan

Amanda Searcy
Cindi Myers
Holly Jacobs
Asa Maria Bradley
Jamie Beck
Michelle Major
Nancy Herkness
Sharon Struth
Susannah Hardy
Janna MacGregor
Jeffe Kennedy
Jenn Stark
Jennifer Chance
Kim Law
Rachel Grant
Sarah Storme
Sharon Wray
Shea Berkley
Tamra Baumann
Rosalind Noonan