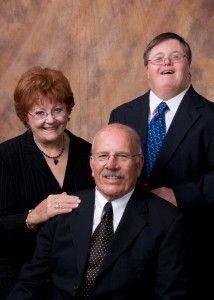 Thursday – Christmas Day – Angel's DO Exist!
Posted Dec 25 2014 in Angels, Barbara Forrest, Bob Forrest, CARC, Christmas, Donation, Gary Forrest
(Christmas and Techno Thursday don't seem to go together, so here is a reposting of a blog from December 2012, but one worth sharing. I hope you are as inspired as I am).
When I was a kid, my parents used to take me over to my cousin's house to play. We jumped on the trampoline, played chase, and an excellent game of hide-and-go-seek. We had so much fun. As a child, I didn't know that Gary was special. He was just my cousin, a boy my brother and I were lucky enough to play with.
As I grew older, I came to understand how special Gary truly was. I only knew that he was my cousin and I loved him. What I didn't know was that Gary was also an angel here on earth. He has Down's Syndrome, and his birth has impacted more lives than most of us will ever influence.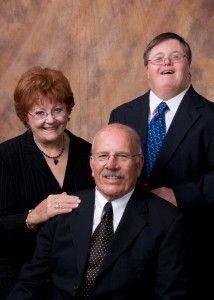 When he was born, it was suggested to my aunt and uncle that perhaps Gary should be placed in an institution. It didn't take them long to reject this idea. His parents, Bob and Barbara Forrest, wanted Gary to have the best life possible, and they wanted to learn how to make that happen. What started as a few Carlsbad, New Mexico families struggling to care for their special needs children became CARC, INC.
CARC is an amazing endeavor. The organization is about supporting the enhancement of special lives. It "provides services for adults with Development Disabilities, including residential, work placement, health and life enhancement. There are also Early Child Development Services, including Early Intervention and Diagnostic services and a full-service child Development Center or children aged birth to three."
From the beginnings of two parents trying to make their son's life better, CARC now gives its clients "a community, a job, care they need and helps provide them with a genuine sense of self-worth, purpose and accomplishment in life." There is also a great support system not only for its very special clients, but also for their families. It's a support system that has changed lives, and outlooks.
I must also add that CARC's heart and soul is the giving community of Carlsbad. From the beginning, businesses, organizations and volunteers have been the lifeblood of CARC. After thirty-five years, the organization continues to thrive and expand and change lives for the better.
One small child was born, and his birth sent ripples throughout a community, a state, and a country as CARC, INC. became an example for others to emulate.
And isn't that the true meaning of Christmas and of angels here on earth?
I am so honored to be able to call Gary my cousin, and Bob and Barbara my family. They have blessed me for knowing them and their lives have been a gift to so many. They humble me with their generosity and giving.
The world can be changed by the power of one. I hope that their story inspires you to take your own opportunity to change someone's life, be it through a smile, a kind word, or a helping hand. You matter. We all do.
As part of my Christmas gift to Gary and the kids at CARC, INC. , I chose to donate in honor of several special people in my life. These angels are worth it!
To learn more or to donate, you can listen to this video, 
Or visit their website at http://www.carcinc.org. 
May the season's blessings be with you now and throughout the year, an ddon't forget that one voice, one heart, one birth can change the world.
Robin