Fitness Friday: One Step at a Time
Posted Dec 19 2014 in Activity, Exercise, Fitness Friday, Moderation, Pedometer
I tend to be an all-or-nothing personality. I'm either awesome or an utter failure. That trait is great when I'm awesome; not so great when I turn into a turtle and hid in my shell. The last few years I've been pretty good at exercising, but when I have a book due or things get crazy, sometimes I'll miss my exercise session. One hour during extremely busy times seems like forever. 
I have an amazing trainer, Ingrid Wentzel. Ingrid has taught me that sometimes coming into the gym and just getting my cardio in is better than going home and doing nothing. She's also taught me that a few changes can make a huge difference.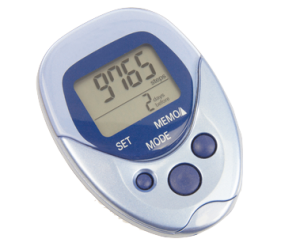 One of the ways to make a small change is to move more. That's where a pedometer can  be very helpful. If you have a goal, you can make choices to increase those steps little by little: parking farther from the store front, taking a few laps around the office ever few hours, or walking around the block when you get home. All the steps add up, and it's fun to add to the step count week by week until you reach your goal. Of course, like anything, talk to your doctor so that any new additions into your health regimen are the right thing for you.
Here are a few articles about stepping your way to health. I hope the Holiday is healthy and happy of you!
---
Articles that Might Inform: