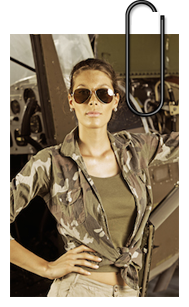 Character Name: Deb Lansing
Height: 5'9"
Eye Color: Green
Hair Color: Auburn
Mission: Find her sister, Ashley, before it's too late.
Trouble: The local cops believe her sixteen-year-old sister away. Deb knows better. And only Gabe believes her. Can he help her save Ashley from a deadly game where winning at all costs means no one will get out alive?
Skill/Weapon of Choice: chopper pilot, knows some martial arts
Weakness: Deb can't stop the nightmarish memories of the man she was forced to leave behind. She failed. Now she'll break all the rules to make certain she brings everyone home.
Favorite Thing: a longneck bottle and potato skins
Quote:
"He didn't know what her demons were, but nobody flew like that without a monkey on their back--or something to prove."
Appearances:
Behind the Lies, book 2
Game of Fear, book 3