Samsung Book Deals for April – In Her Sights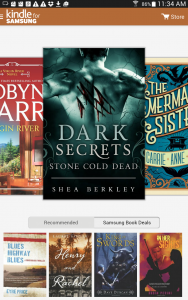 During April, if you have a Samsung device and use the 'Kindle for Samsung' app, you could download and read In Her Sights for free on the 'Samsung Book Deals' (Please note you have to sign in to both Amazon and Samsung to get the free deal).
In Her Sights is one of four books available and you get to choose one book for free. The other 3 other books are offered at a discount. I was so excited to be chosen for this opportunity! If you're interested in checking out the Kindle for Samsung App (for Android 4.3 +) you can go here while on your Samsung device and click on the 'Samsung Galaxy Apps' Icon. (Link – http://www.amazon.com/gp/digital/kfs-landing-page.