Game of Fear
Get the App...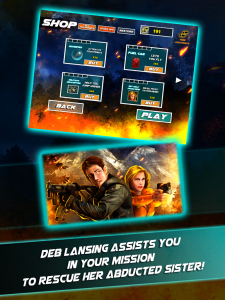 Deb's sister Ashley has been kidnapped! Help SWAT Team Deputy Gabe Montgomery save her! Follow the footprints and find her!
Collect footprints!
Avoid the corrupt Sheriff Tower!
Avoid the vicious mobster, Jeff Gasmerati!
Avoid the 'Warden'…the man who has Ashley in his grasp!
Need help? Need more power? The more footprints you collect, the more power ups you earn. Ex-Army and Search and Rescue helicopter pilot Deb can even lend a hand with her military helicopter so you can fly higher and farther!
Tap, tap, tap, and hold to fly and avoid the evil villains. Or use Gabe's pistol to shoot them.
Awesome graphics make this adventure one you won't want to miss. Buy upgrades from the shop and let others know about this fantastic game through Twitter and Facebook!
Game of Fear is free, so enjoy.
And there's more.
Want to know why Ashley was taken? Want to know why, when she mastered a video game, did the Warden kidnap her? You can find out! Click on the book cover in the game and check out the novel it was based on: Game of Fear (A Montgomery Justice Novel) by International Bestselling Author Robin Perini.